2020 CPD Catch Up: Accounting
Enable non-compliant CPD members to obtain the outstanding verifiable accounting CPD points needed to be compliant this year.
WHAT YOU WILL LEARN
Knowledge, provisions and practical implications regarding various accounting topics varying from Ethics, Legislation, Annual Accounting Officer, Reporting Engagements, IFRS for SME Update, IFRS, Companies Act update, Financial statements, Management accounts, Independent review and preparing accountants for the Fourth Industrial Revolution.
DESCRIPTION
This Catch-up CPD 2020 bundle consists of the most popular webinars hosted during the year and was created to ensure that members who are not CPD compliant can obtain the necessary verifiable CPD credits.
This e-learning intervention gives you access to professional and technical content that ensures both your knowledge and skills are maintained so you remain professionally competent.
This Catch-up CPD bundle offers the following topics: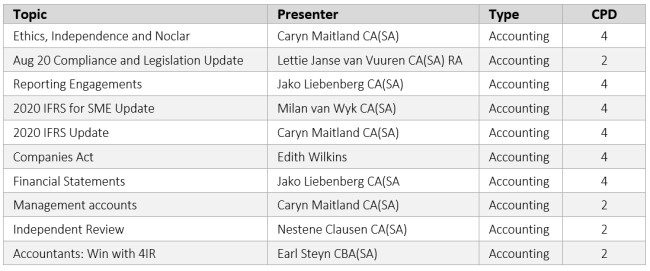 PRICE
R4,200.00 Now only R2,100.00 until 18 Dec 20
CONTENT
Study Unit 1 – Accounting
Ethics, Independence and NOCLAR
Monthly Compliance and Legislation Update
Reporting Engagements
2020 IFRS for SME Update
2020 IFRS Update
Companies Act
Financial Statements
Management accounts
Independent Review
Preparing accountants to thrive in the Fourth Industrial Revolution
There are no preconditions for this course.
Moderate level.
Recorded webinar made available on a specified date.
PRESENTER
Various.
ADDITIONAL MATERIAL
By attending this webinar, you will be provided with: 
Summarised slide presentation 

Reference documents and / or course material where available 

Access to a technical knowledge base
Additional Course Information
| | |
| --- | --- |
| Category | Accounting |
| Accredited | SAIBA |
| Verifiable CPD Hours | 32 |
| Non-verifiable CPD Hours | N/A |
| Effort | 32 hours |
| Duration | 32 hours |
| Format | Webinar |
| Level | Moderate |
| Assessment | Yes |
| Study Material | Yes |
| Course Date | 18 September, 2020 |
If you answer "Yes" to any of the below, then this Accounting 2020 CPD Catch-Up offer is for you:
You are a professional registered with SAIBA.
You did not have time during the year to get all your compulsory Accounting CPD hours.
You want to know more about the latest developments within your profession so that you can help your clients better.
This event is included in the following subscription packages: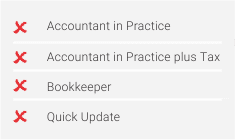 If you are not a subscriber, you need to purchase the event as a stand-alone event or subscribe to a SAIBA subscription package.
Subscribers pay less for their CPD points.
SAIBA offers 4 subscription packages that provides access to everything to run a successful accounting and tax practice.

Pay a small monthly amount and gain access to monthly webinars covering ethics, financials, reporting, audit and assurance, working papers, law, technology, management topics, and tax.